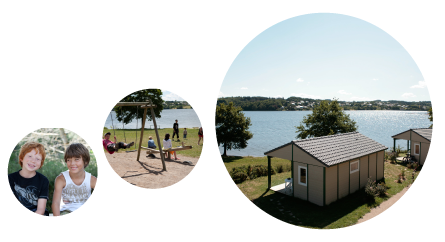 Located in the Lévézou, the country of mountains and lakes, the lakes Hamlet is primarily a single area of ​​22 chalets*** on the edge of Lake Villefranche de Panat, feet in the `water.
LE HAMEAU DES LACS
Avenue de Rodez
12430 Villefranche de Panat - France
Tel : +33 (0)5 65 67 41 82

or Tel :+33 (0)5 65 65 81 81 (Off-season)
The Hameaux of Aveyron are holiday villages*** located in the south-west of France, Occitania, in the north of the department of Aveyron. You are expected there for a festive and typical summer holiday, off the beaten track.
You will be welcomed in the heart of a land of tradition, alive and punctuated by its markets of local producers, its legendary gastronomy, its outdoor activities as well as its history and its preserved cultural heritage.
The hamlets of the Aveyron are composed of two sites: the Hameau Des Lacs, on the edge of the lake of Villefranche de Panat, and the Hameau Saint Martial, in Rieupeyroux in the country of Ségala. Do not hesitate to visit their respective websites to discover all their assets.